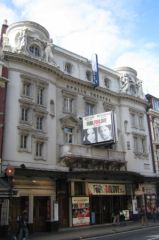 Designed by Lewen Sharp, the Apollo Theatre is one of the smallest of the six theatres built on Shaftesbury Avenue. With a capacity of 796 seat, it was built with two innovations, the first one was an auditorium without the pillars that continue to restrict the view of some of the older West End theatres seats. The second one was its orchestra pit which was designed to provide a clearer unmuffled sound for instruments.
The Apollo Theatre was opened in 1901 just after the death of Queen Victoria making it the first playhouse of the new Edwardian age. Revellers can't miss its French Renaissance facade with its four angels perched on top of the building. On the right hand side of the entrance still feature the emblem of a flying lizard supported by Lions on a silver chain and buckle.
Although initially built to receive musical comedies, mostly straight plays occupied the Apollo Theatre during the Great War. Between the two wars, it became the house of few comedies and revues. In 1944, the Apollo became the new home of the first major revival of Noël Coward Private Lives which Coward had written for himself and Gertrude Lawrence when they were still occupying the Phoenix.
The same year, Prince Littler took over the Apollo Theatre and the next 40 years left place to long-running light comedies. Redecorated in 1965, many successes were staged such as The Best of Friends, Driving Miss Daisy, Mrs Klein, Jeffrey Bernard is Unwell, The Deep Blue Sea, Pop Corn...
In 2005 Kathleen Turner and Bill Irvin gave a fantastic performance in Edward Albee's Classic Who's Afraid Of Virginia Wolf? for a strictly limited run. This was followed by Fool For Love, Summer and Smoke and The Vortex...
Currently playing at the Apollo is Rain Man, and Three Days of Rain will follow in 2009.